The Impact of Customer Trust on the Relationship between Religious Values and Adoption of Islamic Banking
Abstract
This study investigated how managers in Islamic banks in Pakistan saw Islamic banking in connection to their own religious beliefs, customer trust, and other factors. The study's goal was to comprehend how managers' decisions to use financial services and products that adhere to Sharia law are influenced by their religious beliefs and how customer trust affects this relationship. Data was gathered using a quantitative research design, and it came from 146 managers of Islamic banks who responded to standardized surveys. Islamic banking acceptance, customer trust, and customer value measures were all included in the poll. To investigate the connections between the variables, descriptive statistics, and regression analysis were performed. The findings showed a strong positive correlation between managers' acceptance of Islamic banking and their religious principles. Sharia-compliant financial services were more likely to be adopted and promoted by managers with greater Islamic views. Additionally, the adoption of Islamic banking was further influenced by client trust, which appeared as a key moderator. The results underline how crucial it is for customers' trust and religious beliefs to influence managers' adoption of Islamic banking. The favorable influence of religious values on adoption decisions is strengthened by increasing consumer trust in Islamic financial institutions. This study contributes to a greater knowledge of the management perspective within the business and offers insightful information about the elements influencing the development of Islamic banking in Pakistan.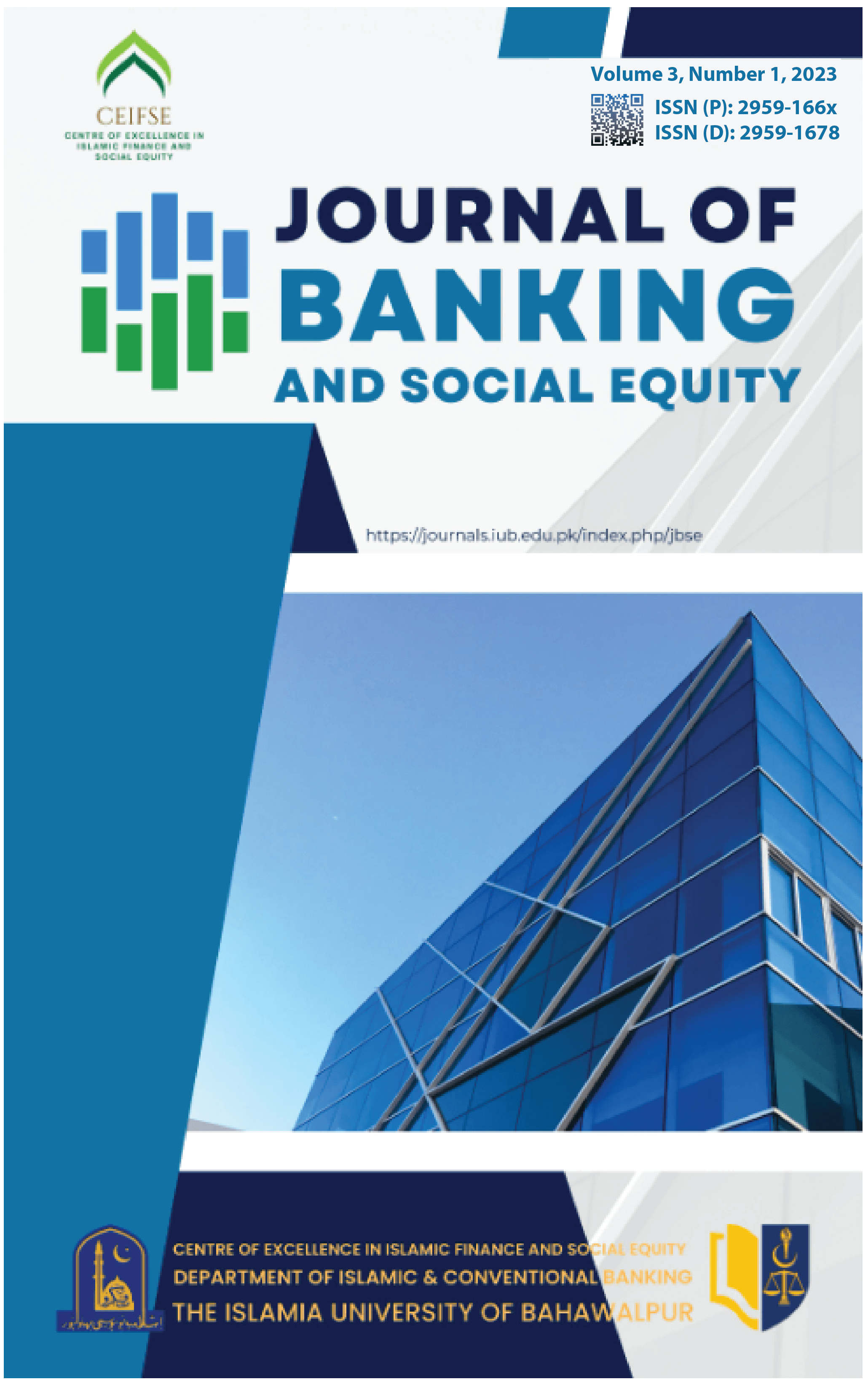 Downloads
How to Cite
MUHAMMAD MADNI, Muhammad Murad, Rana Zahid Hafeez, & Muzamil Shahzad. (2023). The Impact of Customer Trust on the Relationship between Religious Values and Adoption of Islamic Banking. Journal of Banking and Social Equity (JBSE), 2(1), 73–83. https://doi.org/10.52461/jbse.v2i1.2030
License
Copyright (c) 2023 MUHAMMAD MADNI, Muhammad Murad, Rana Zahid Hafeez, Muhammad Awais Akhtar
This work is licensed under a Creative Commons Attribution-NonCommercial 4.0 International License.