A Critical Review of the Objections of the Orientalists to Islamic Civilization and Values
Keywords:
Orientalists, Islam, Culture, Civilization, Veil
Abstract
Orientalism has been involved in spreading propaganda against Islam from its beginning. Orientalists (sometimes in the form of researchers, sometimes in the form of businessmen and sometimes in form of religious scholars) collect information about Islam, Prophet of Islam and the Islamic world. On the base of this information, they attack on different aspects of Islam with their fabricated and self-made propaganda. In this Article a critical analysis of Orientalists objections about Islamic Culture and civilization is presented. In the beginning, the Orientalists who researched the Islamic civilization have been reviewed.  Later, the objections of the Orientalists to the veiling of Muslim women, the misinterpretation of the veil, the attempts to associate the veil with the elite, the presentation of the veil as a custom instead of the order of the Islamic Sharia and the efforts of the Orientalists to disparage Islamic morals and dignity through painting has been reviewed.  The article discusses the spectacle of the snake charmer, the sale of naked women in slave markets, half-naked maids in Moroccan baths, and images of extrajudicial executions.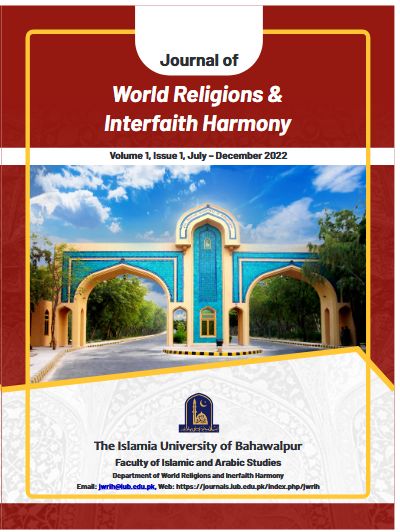 Downloads
How to Cite
Hafiz Sami Ullah, & Faridi, S. S. (2022). A Critical Review of the Objections of the Orientalists to Islamic Civilization and Values. Journal of World Religions and Interfaith Harmony, 1(1), 41–63. https://doi.org/10.52461/jwrih.v1i1.1620