The socio-economic consequences of the covid-19 lockdown on the economy of Bangladesh: An analysis
Keywords:
Productive economy, livelihoods, COVID-19, lockdown, poor people, income loss, poverty and unemployment, Bangladesh
Abstract
The main purpose of this study is to evaluate socio-economic impact of the economy in Bangladesh during the lockdown for COVID-19 situation by using secondary data. Bangladesh's economy is quickly expanding; however there are certain fundamental socio-economic issues such as poverty and unemployment. COVID-19 has a substantial impact on Bangladesh's marginalized population's quality of life. To cope with this continuous pandemic, many people from the informal economy have been forced to leave their employment and lose their earnings. Across the country, unemployment and poverty are on the rise. Economic growth has not been inclusive in Bangladesh, which has resulted in disadvantaged people becoming even needier as time has gone on. COVID-19 has had a harmful impact on marginalized people's life. The author found that the containment measures had a number of negative effects on the rural and urban economies. Rural households were required to cut their food consumption and receive government food assistance as well as private sector monetary assistance. Only growth-oriented policy initiatives, according to the author, will be insufficient to rebuild the economy after lockdown. Rather, Bangladesh must embrace employment oriented economic planning that will increase job creation and minimize poverty, income inequality, and resource allocation disparities.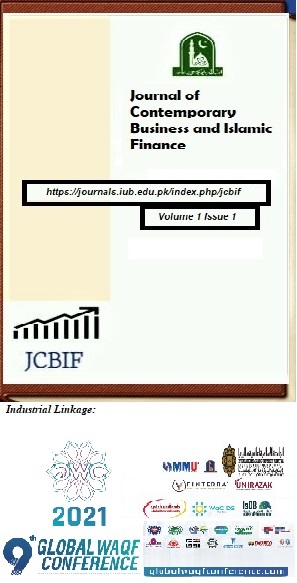 Additional Files
How to Cite
Billah, M. A. (2021). The socio-economic consequences of the covid-19 lockdown on the economy of Bangladesh: An analysis. Journal of Contemporary Business and Islamic Finance (JCBIF), 1(1), 50–58. Retrieved from https://journals.iub.edu.pk/index.php/jcbif/article/view/581
License
After paper acceptance in JCBIF,the author(s) has (have) must accepted the publication in the JCBIF by releasing the copyright to the Islamia University Bahawalpur-IUB-Pakistan.
Journal of contemporary business and Islamic finance (JCBIF) is licensed under a Creative Commons Attribution 4.0 International License.
The material presented by the authors does not necessarily represent the viewpoint of editorial team and the management of the Islamia University of Bahawalpur,IUB,Pakistan as well as authors institute.