Digital transformation of value-based intermediation - a risk-based perspective
Keywords:
Value-based intermediation; digital transformation; risk mitigation; Maqasad al Shari'ah
Abstract
Islamic Finance has a strong base from Maqasid al Shariah perspective to really develop a system on social justice & environmental wellbeing to further establish a sustainable value based economic system. Islamic Banks on this very value based system can flourish and lead the banking industry.Financial stability is the goal of every organization but adding to it sustainable ecosystem, modern technological product & services and proper utilization of the resources broaden the horizon for Financial institutions. Luckily, Islamic Finance has these attributes inherited in their principles and legal classical fiqh maxims.We focused on the digital transformation and the risk arising from it while adopting those innovative technology products and services. We will come up with the mechanism to mitigate those risks and evaluate it from Maqasid al Sharia'h perspective in value based intermediation.Good attributes in the overall culture of the organization is important and it can be the core value. It must consist of integrity, maintaining high moral standards, fairness & justice and transparency. All these attributes are already existing in Islamic economics theory. The modern organization to adopt these attributes in digital transformation can lead them to a value based system which can be trustworthy and sustainable. The Maqasid's guidance can further strengthen this system and make it more reliable and sustainable with the concept of realism which can better contribute to the people, profitability of the organization and our planet a healthy place to live.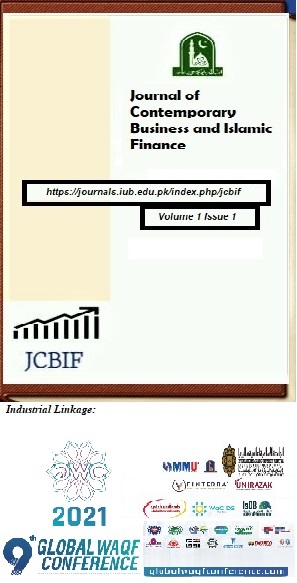 Additional Files
How to Cite
Yousufzai, S. F., Hayat, A., & Abbas, M. H. (2021). Digital transformation of value-based intermediation - a risk-based perspective. Journal of Contemporary Business and Islamic Finance (JCBIF), 1(1), 23–31. Retrieved from https://journals.iub.edu.pk/index.php/jcbif/article/view/599
License
After paper acceptance in JCBIF,the author(s) has (have) must accepted the publication in the JCBIF by releasing the copyright to the Islamia University Bahawalpur-IUB-Pakistan.
Journal of contemporary business and Islamic finance (JCBIF) is licensed under a Creative Commons Attribution 4.0 International License.
The material presented by the authors does not necessarily represent the viewpoint of editorial team and the management of the Islamia University of Bahawalpur,IUB,Pakistan as well as authors institute.