Creation and management of lease of waqf properties in Sri lanka: Issues and challenges
Keywords:
Waqf Property; Lease; Management; Issues and Challenges; Sri Lanka
Abstract
Throughout Islamic history, Waqf (Islamic endowment) has played an important role and gives positive impact on the community, especially on the socio-economic aspect. This has been made possible by having appropriate management and financing of the Waqf properties in order to improve the socio-economic growth of the Muslims. However, the implementation and management of Waqf property in Sri Lanka have witnessed a considerable deterioration since the last amendment of the Waqf Act in 1982 but not all. This study analyses the Waqf management in Sri Lanka concerning the development of leases of Waqf property. It discusses the application of the current Waqf lease and identifies the contemporary challenges as well as issues of the Waqf lease Act and its practices. It adopts a doctrinal analysis of the primary and secondary data and documents including statutes, practices, case law, and reports. The findings of this investigation show there are positive and operative management of Waqf lease, but overall awareness and specialist understanding are also important since Waqf lease requires sustainable support and cooperation from the community, private sector and the government.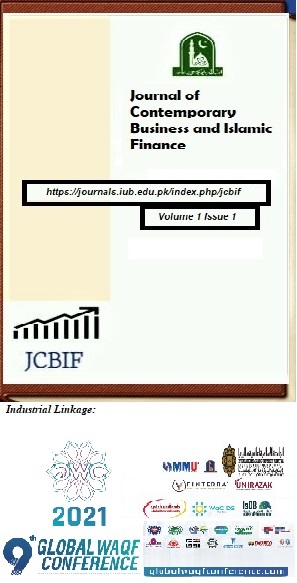 Additional Files
How to Cite
Thabith, M. B., & Mohamad, N. A. (2021). Creation and management of lease of waqf properties in Sri lanka: Issues and challenges. Journal of Contemporary Business and Islamic Finance (JCBIF), 1(1), 59–72. Retrieved from https://journals.iub.edu.pk/index.php/jcbif/article/view/697
License
After paper acceptance in JCBIF,the author(s) has (have) must accepted the publication in the JCBIF by releasing the copyright to the Islamia University Bahawalpur-IUB-Pakistan.
Journal of contemporary business and Islamic finance (JCBIF) is licensed under a Creative Commons Attribution 4.0 International License.
The material presented by the authors does not necessarily represent the viewpoint of editorial team and the management of the Islamia University of Bahawalpur,IUB,Pakistan as well as authors institute.