Motivation for charitable act: A case study of cash waqf during pandemic in Indonesia
Keywords:
Charitable act; Cash waqf; Muslim's donations; Waqf during pandemic; Theory of Planned Behaviour
Abstract
The Covid-19 pandemic has caused devastating socio-economic problems globally and created a higher demand for Islamic charities, including cash waqf. Therefore, this study aims to analyse the intention of Indonesian Muslims to perform cash waqf during the pandemic time. It employs the Extended Theory of Planned Behavior (TPB) approach and the Structural Equation Modelling (SEM) method in analysing the primary data collected from 404 respondents. The study found that all TPB variables significantly influence respondents' intentions to perform cash waqf during the pandemic. However, the most important determinant of the intention to do the charitable act is the perceived behavioural control variable. Meanwhile, attitude is determined by knowledge, religiosity, and trust towards waqf institutions. The findings highlight the importance of the ease of doing cash waqf and trust in waqf institutions in determining the Muslims' intention to perform charitable acts. As such, government and waqf institutions should accelerate digitising the current waqf system to provide more convenience in doing cash waqf. Furthermore, waqf institutions should maintain and improve trust towards their institution. All waqf stakeholders should also attempt to increase waqf awareness and literacy. The strategies are expected to enhance waqf collections needed by society, particularly during the pandemic.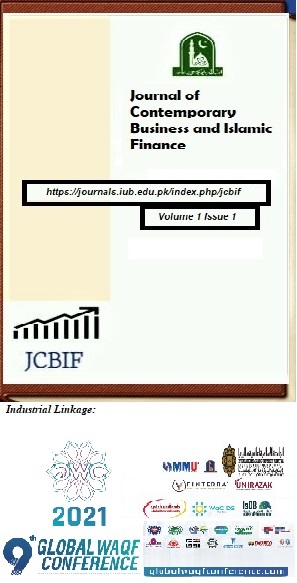 Additional Files
How to Cite
Kamil, M. S., & Kasri, R. A. (2021). Motivation for charitable act: A case study of cash waqf during pandemic in Indonesia. Journal of Contemporary Business and Islamic Finance (JCBIF), 1(1), 32–49. Retrieved from https://journals.iub.edu.pk/index.php/jcbif/article/view/700
License
After paper acceptance in JCBIF,the author(s) has (have) must accepted the publication in the JCBIF by releasing the copyright to the Islamia University Bahawalpur-IUB-Pakistan.
Journal of contemporary business and Islamic finance (JCBIF) is licensed under a Creative Commons Attribution 4.0 International License.
The material presented by the authors does not necessarily represent the viewpoint of editorial team and the management of the Islamia University of Bahawalpur,IUB,Pakistan as well as authors institute.