Impact of Stress among the Employees of Microfinance Banks in Bahawalpur, Pakistan
Sahrish Khan

Govt sadiq college women university Bahawalpur, Pakistan

Waseem Ul Hameed

Universiti Utara, Malaysia
Keywords:
Lack of motivation, workload, time pressure, employee performance
Abstract
The purpose of this study is to find out the impact of stress among the employees of microfinance banks in Bahawalpur. For this purpose, employees from various microfinance banking sector were chosen. A questionnaire with 22 items with Likert scale (1: strongly agree to 5: strongly disagree) were developed and tested its reliability and validity. 100 respondents were selected from various sectors of Bahawalpur. The questionnaire includes demographic information's and statements to measure three (3) independent variables of time pressure, workload and lack of motivation, to measure the level of stress. The dependent variable is employee performance. Regression analysis was carried out to examine the impact of stress on employee performance using SPSS. We found that time pressure and workload have significant and negative influence on employee performance. While the lack of motivation does not have any significant influence on the performance of employees. Therefore, we concluded that increasing time pressure and workload would reduce employee performance in all aspects. Future research should consider a larger sample from leading sectors where job natures are similar. Analysis should be more rigorous, and the questionnaire would be created extra profound.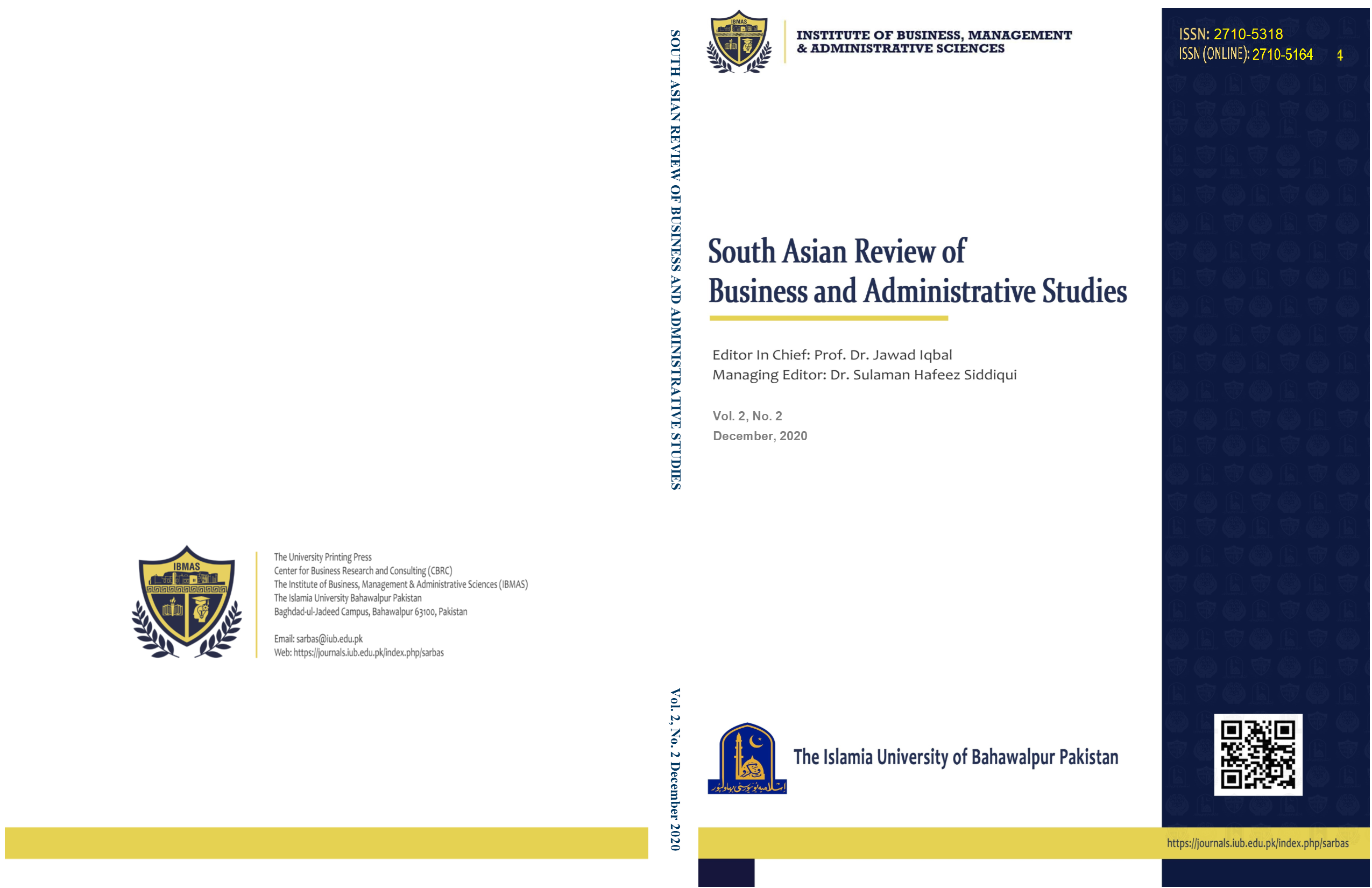 How to Cite
Khan, S., & Hameed, W. U. (2020). Impact of Stress among the Employees of Microfinance Banks in Bahawalpur, Pakistan. South Asian Review of Business and Administrative Studies (SABAS), 2(2), 97-106. Retrieved from https://journals.iub.edu.pk/index.php/sabas/article/view/449
Copyright (c) 2020 Sahrish Khan, Waseem Ul Hameed
This work is licensed under a Creative Commons Attribution-NonCommercial 4.0 International License.
The authors submitting and publishing in SABAS agree to the copyright policy under Creative Commons CC-BY-NC 4.0 International license (Attribution-Non Commercial 4.0 International). Under this license, the authors published in SABAS retain the copyright including publishing rights of their scholarly work and agree to let others remix, tweak, and build upon their work non-commercially.