The Effect of E-information Services on University Brand Image and SMEs Sustainable Growth through E-learning and Entrepreneurs' satisfaction with the moderating role of Enduring Involvement: A post-effect of covid-19 in Universities of Punjab
Muhammad Nadeem Khan

Trust for Democratic Education and Accountability Islamabad, Pakistan

Sohail Sharif

Chongqing University, China

Ghazanfar Ali

Universiti Utara, Malaysia
Keywords:
Information and Communication Technology, The Standard of E-Information, Entrepreneurial e-Learning and Satisfaction, University Brand Image
Abstract
This study investigates the effect of information and communication technology, the quality of e-information, entrepreneurial e-learning education and entrepreneurial satisfaction on the university brand image. The population for the current study would be the entrepreneurial students of public and private universities in Punjab. For the conceptual study, findings would reveal the effect of ICT, e-service and e-information quality on university brand image and SMEs sustainable growth through mediating effect of e-learning education and entrepreneurs satisfaction and the moderating effect of enduring involvement of entrepreneurs. Moreover, this research will have specific consequences for universities to establish an e-learning network to face the COVID-19 situation for their entrepreneur students. It suggests for academic institutions to successfully incorporate the learning management framework to increase university brand image through e-education system.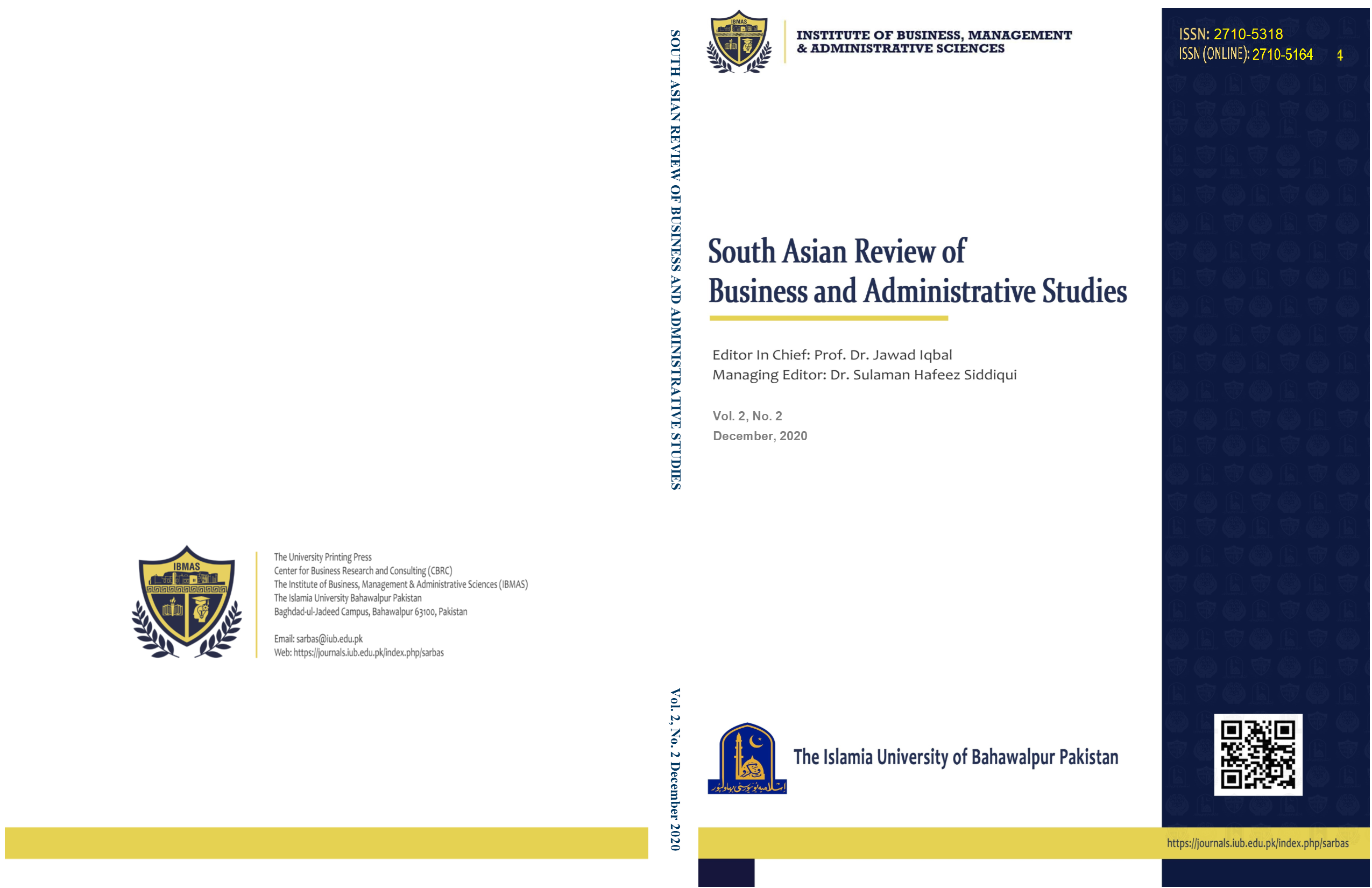 How to Cite
Khan, M. N., Sharif, S., & Ali, G. (2020). The Effect of E-information Services on University Brand Image and SMEs Sustainable Growth through E-learning and Entrepreneurs' satisfaction with the moderating role of Enduring Involvement: A post-effect of covid-19 in Universities of Punjab. South Asian Review of Business and Administrative Studies (SABAS), 2(2), 117-128. Retrieved from https://journals.iub.edu.pk/index.php/sabas/article/view/454
Copyright (c) 2020 Farhan Sarwar Bajwa, Sulaman Hafeez Siddiqui, Dr. M. Sarwar Bajwa
This work is licensed under a Creative Commons Attribution-NonCommercial 4.0 International License.
The authors submitting and publishing in SABAS agree to the copyright policy under Creative Commons CC-BY-NC 4.0 International license (Attribution-Non Commercial 4.0 International). Under this license, the authors published in SABAS retain the copyright including publishing rights of their scholarly work and agree to let others remix, tweak, and build upon their work non-commercially.