Role of democracy play any role in Pakistan's foreign policy towards India? Navigating 2008 onwards era.
Keywords:
Pakistan foreign policy, Democracy, Pakistan foreign policy towards India, Pakistan India relations
Abstract
There is general conception that democratic values are reflected in the behavior of democracies' foreign policies, such as the fact that democracies strive to spread democracy to other parts of the world in order to make the world a better place to live, that democracies strive to keep peaceful relations with other democracies, and that democratic citizens and democratic institutions are always given a voice in the process of making decisions regarding foreign policy. However, there is considerable controversy as to whether democratic countries' foreign policy is actually conducted democratically or merely camouflaged in the name of democracy. Especially democracies like Pakistan's are unusual since they have never been liberal democracies. It vacillates between being a flawed democracy and an autocrat. This essay primarily seeks to explore whether 2008 onwards democratic transitions had any impact in Pakistan's foreign policy in particular towards India. By reviewing existing literature extensively, this essay concludes that liberal peace theory fails to describe Pakistan policy toward India that even throughout the democratic period after 2008, Pakistan's policy with India seemed to be purely guided by realist logic, with ideological affinities with democracy playing a minimal role only to the extent that it helped the state's interests. Moreover, paper concludes that it is because of the lack of consensus between military and civilian leaderships, the fact that foreign policy has not been an election issue in Pakistan, and the fact that Pakistan defense policy is almost inseparable from its foreign policy are the three main reasons why civilian governments has been unable to assert any significant control over countries foreign policy.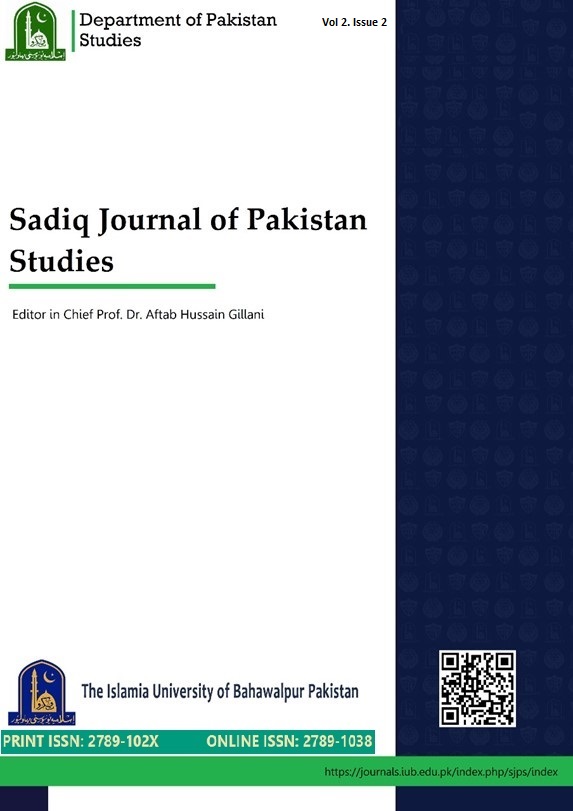 How to Cite
Asma Khan. (2022). Role of democracy play any role in Pakistan's foreign policy towards India? Navigating 2008 onwards era. SADIQ Journal of Pakistan Studies, 2(2). Retrieved from https://journals.iub.edu.pk/index.php/sjps/article/view/1379
License
Copyright (c) 2023 By submitting an article to the editor, the author (s) will automatically grant editors the rights to edit and post the content of the articles on the official website of the Sadiq Journal of Pakistan Studies (SJPS) if accepted. Author (s) retain the copyrights and will grant SJPS the non-exclusive rights of first publication of manuscript electronically and in print form and to identify SJPS as the original publisher under creative commons License. It will allow others to share the content with explicit indication of the authorship and its initial publication in SJPS. Under these licensing terms, the author (s) confirm that all the content of the published manuscript will be distributed in the public domain and other researchers may use it exclusively for the non-profit scientific purpose (s) with the obligatory acknowledgement of authorship. Author (s) reserves unconditional rights to copy and reproduce the published work for teaching, use it in other research and redistribute, share or place the copy of the article to any other medium or format, even commercially only if SJPS is explicitly acknowledged as the original publisher. However, author (s) cannot apply any legal or technological measures that legally restrict others from doing anything that is already permitted under the license terms.
This work is licensed under a Creative Commons Attribution 4.0 International License.
All the articles editorially accepted for publication by the Sadiq Journal of Pakistan Studies (SJPS) are licensed under the Creative Commons Attribution License 4.0 International (CC BY 4.0). Submitting a manuscript to SJPS, the author has to certify that he/ she is authorized by other contributors (s) and co-author (s) to enter the publication process.
He/ She shall assure on behalf of all author (s) that:
The manuscript is original, it has not been published in any other journal before, is not under consideration for any other journal and does not violate any existing copyrights or any other rights of a third party.
I/we have full authority to enter into this agreement for granting the rights to SJPS as sole author (s) of the article without breaching any other obligation.
The manuscript does not contain any unlawful and libelous content or anything that would breach the agreement (s) of confidence, commitment, and secrecy.
I/we certify that due care has been taken to ensure the reliability of the article. All purported statements and information are facts to the best of my/our knowledge and the currently accepted standards of scientific knowledge. Therefore, any of the proposed methods or instructions will not, if followed accurately, cause any damage or loss to the user (s).